Brace yourselves. These cookies are about to become a new staple in your life. Like, every-single-day-life. They're called brownie cookies and that's definitely accurate. The dough is very thick and sticky and the first time you make them you'll be thinking to yourself "this can't possibly be right," but I assure you, it is!
I took a batch of these cookies to my nephew's 1st birthday party recently, where one guest pulled me aside and with wide eyes exclaimed "I don't know what heaven taste's like. BUT I'm pretty sure IT'S THIS" as she chomped through her second cookie. 😂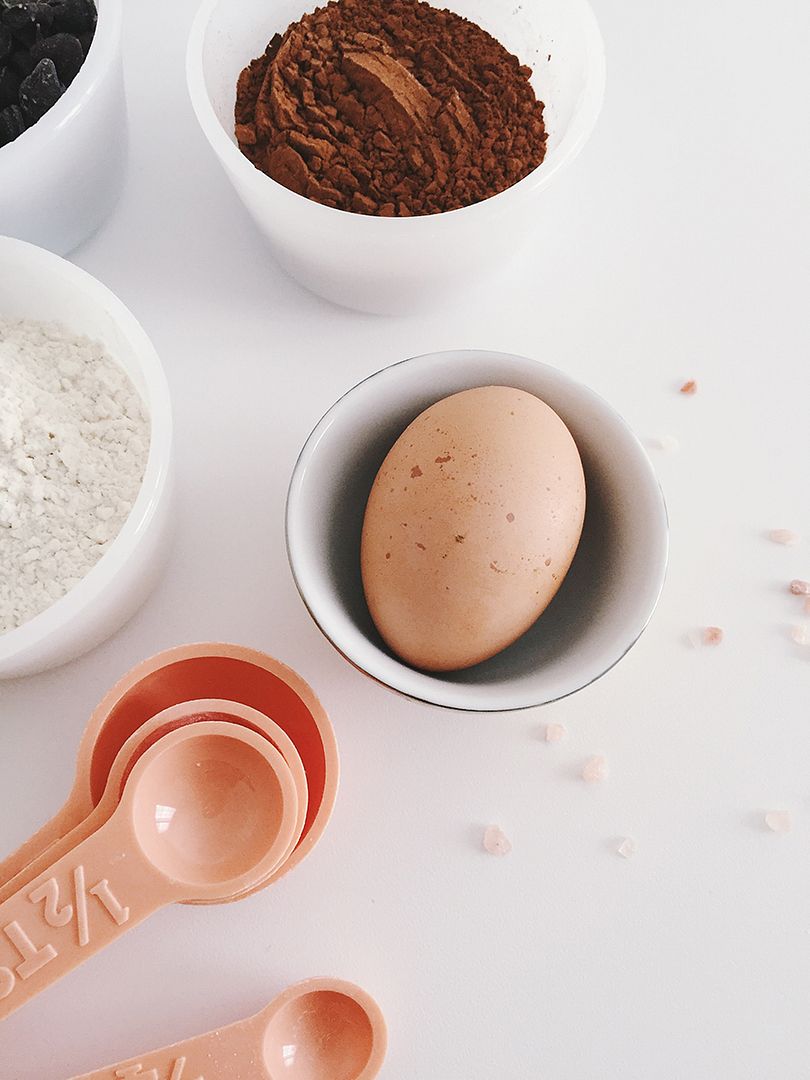 The ingredients are quite simple and I'd bet you have most of them in your pantry already. I personally eat A LOT of olive oil - I use it on and for everything - so the fact that this recipe doesn't have any butter, but has olive oil instead, makes me so happy. Top it all off with sea salt and I'M IN.
SEA SALT BROWNIE COOKIES
1/2 c. olive oil
1 c. sugar
2 eggs (preferably free range!)
3/4 c. flour
3/4 c. cocoa powder (natural)
sprinkle of sea salt (+ more for tops of cookies)
1 tsp. baking soda
1 tbsp. hot water
1 tsp. vanilla
1 1/2 c. chocolate chips (semi-sweet)
DIRECTIONS:
In a large mixing bowl with hand mixer, or your stand mixer, combine olive oil and sugar. Beat in eggs one at a time. Add flour, cocoa and salt - combine well. At this point your dough should look like a dark brownie mix, just super thick! In a separate dish, dissolve the teaspoon of baking soda into the tablespoon of hot water. Then add the "baking soda water" and vanilla to the mixing bowl and combine well. Finally, fold in your chocolate chips!
Refrigerate dough for a least 1 hour - or overnight. You need it to really "set up", so you can scoop it onto your cookie sheet with a cookie scoop.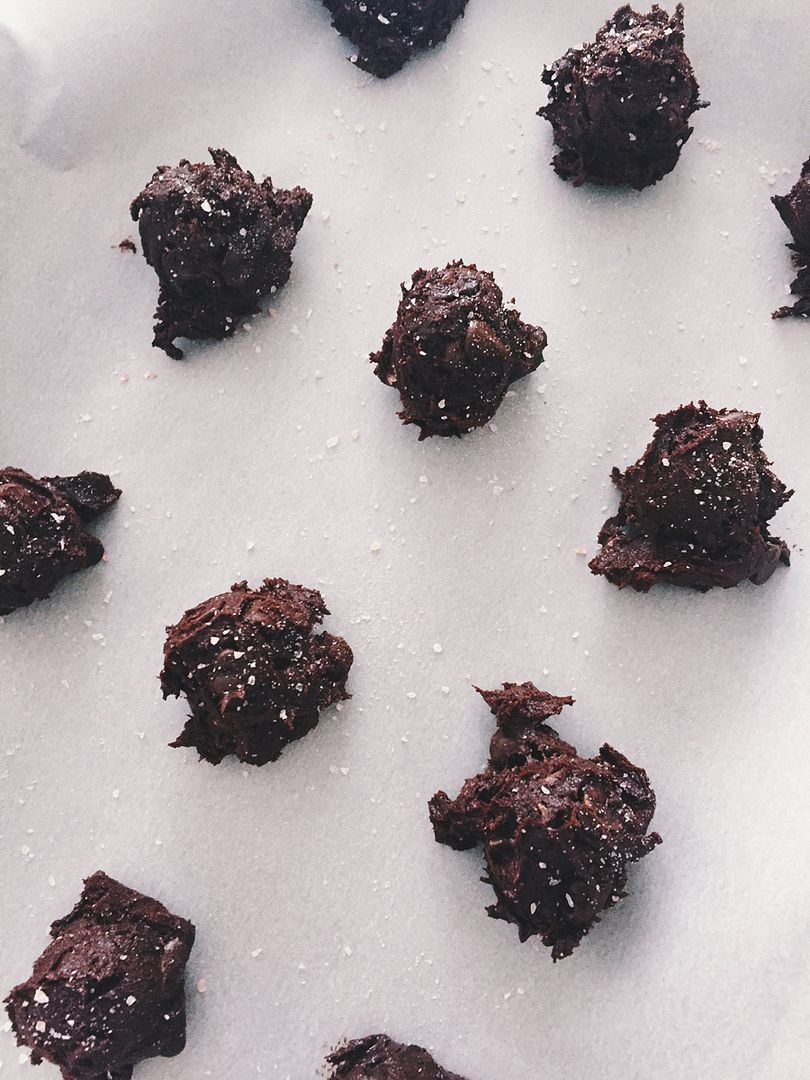 Once dough has chilled an hour or more, preheat your oven to 350. Remove dough from the fridge and scoop onto your cookie sheet with a cookie scoop. My cookie scoop is rather small, (about the size of a golf ball, or a bit smaller) which worked perfectly for these. I also prefer to bake all of my cookies on parchment paper, but it's not necessary if you don't have any. The dough will be very sticky. I had to run my scoop under hot water a time or two, between baking the batches, to help everything scoop more easily. Sprinkle the tops with sea salt before placing in the oven.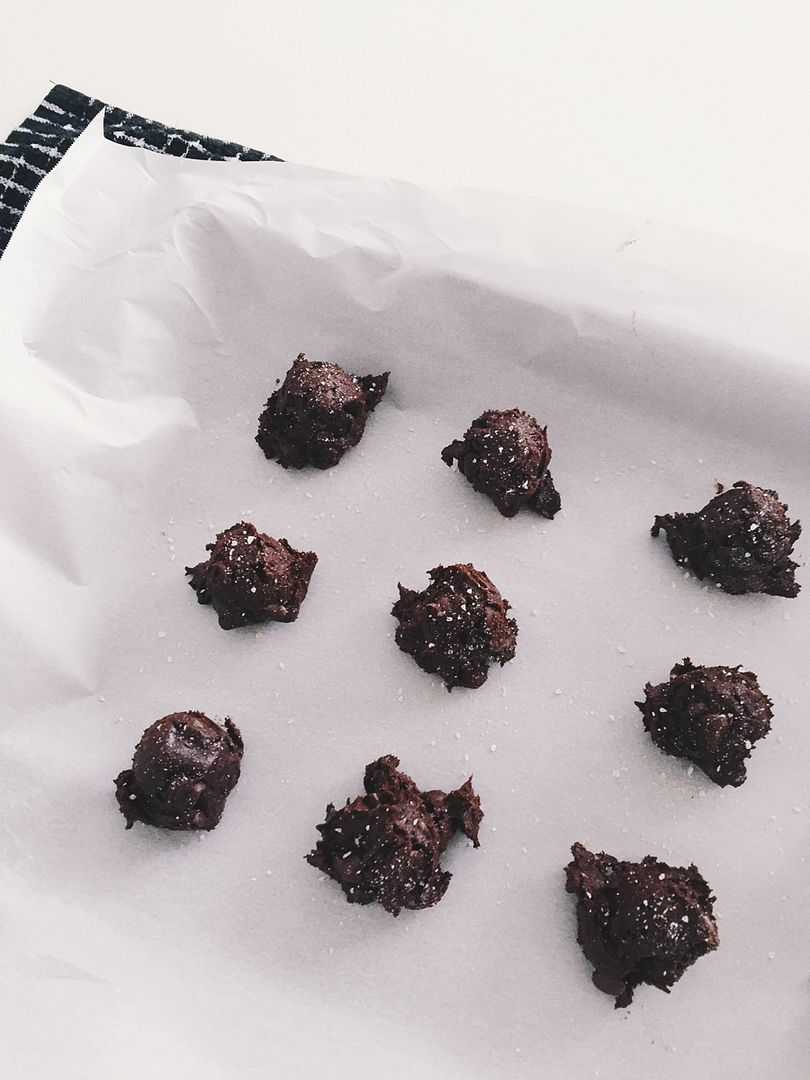 Bake at 350 for 10 minutes. Remove from oven and let cool completely on the cookie sheet. Transfer to a plate, or directly to your mouth, only once cooled! They'll be beautifully gooey inside, like a brownie, but a bit crisp on the outside like a cookie. It's the best of both worlds.
The next time I make these I plan to add walnuts. Or macadamia nuts. Mmm.. let me rephrase that - tomorrow when I make these, I plan to add nuts. Enjoy!